Here's a question for you, how do you delight a customer? What is it that makes a customer come back and buy from you time and time again? A pretty simple question, but the answers are often hidden and hard to come by. Let me put this in perspective. I often get surveys after purchasing a product or service and, in my opinion, the longer the survey the more worthless it is. There are only two questions that matter. "Would you buy from me again?" And, "Would you recommend our product or service?" Everything else is simply marketing curiosity. So, what is it that really delights a customer and how do we capture and bottle it?
Here are two examples. I once bought a G.E. refrigerator and a week or so after it was delivered and installed, I had a follow up call from G.E. They wanted to know if I was satisfied with every aspect of their product, including the delivery of the new unit and removal of the old fridge. "Has the product met your expectation in every way" was the final question. I was awestruck at the follow up. I have also had occasional calls from the dealership where my car is serviced to make sure I was satisfied with the maintenance they performed. Again, they asked the magic question, "Had they met my expectations on the service experience they provided and was there anything they could do to improve the experience?" Not the products or the services. Only my experience. These companies were not fishing for compliments; they were looking for gem-hard, bottom-line ways to improve. They wanted to gain a clear understanding of their customer's expectations and then be certain they were fully meeting them. Importantly, they were looking beyond their product specifications and maintenance services to define their total customer experience.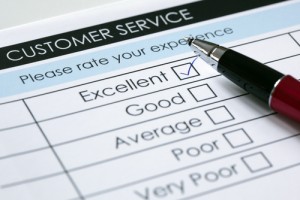 Understanding and setting the expectation of every customer is at the heart of delighting them. In my career I can cite multiple examples of customer meetings where the expectations were not clearly understood, and therefore not fully met. This doesn't mean the meetings were unproductive, but there were times when I felt a customer left somewhat disappointed. Looking back there was a consistent theme as to how this happened and it almost always had to do with not asking ahead of time what the customer expected to accomplish – or what would be the best use of the available time. Over the years I have found that the following steps can make the difference between disappointing and delighting a customer:
1. Ask what the customer expects to accomplish at the meeting and then LISTEN – and learn.
2. Build a specific agenda ahead of the meeting and have the customer confirm the agenda topics. And then professionally prepare and go over the agenda at the start of the meeting to be sure
3. Make certain you are speaking the same language, especially as it relates to a product's progress steps. For example, Breadboard, Brassboard, Preproduction, First Article, General Availability, Preproduction, Pilot and Production can mean very different things to different companies.
4. Initiate, where possible, some direct follow up with the intermediate channel or reseller where the product is sold. They may be invisibly correcting built-in errors (wrong power plugs was an example I found) or have great suggestions as to how the experience can be improved.
5. Be pedantic, especially in the early days of a new customer relationship and strive to understand what is required. Work hard to reach full agreement and alignment with the customer.
6. Be easy to do business with – and work hard at it. There may be times when you need to actually do the impossible. Do so regularly – but don't let them see you sweat doing it.
7. If you say you will do it – make it happen. Own the action with no excuses. More heartburn is generated by not following up on commitments you make than almost anything else.
8. Finally, if you get the chance, do something unexpected and dramatic that helps the customer and sears your action into their folklore. Nordstom's and Disney have books written about how they "wow" their customers and the actions become legends that are told and retold.
We are in business to meet our customer's expectations and to do so in a way that creates a positive and favorable experience for them. This experience is based on consistently meeting their expectations in all we do. This does not mean we will always agree or never have issues. It does mean that we will always do all possible so that the NEI experience is best in class. Our goal is to delight them. And when we do, they will purchase from us again and again and refer us to their colleagues. Nothing is more important to a business.