However, a web filtering software or hardware solution has to do more than simply block inappropriate sites; it needs to balance educational Web 2.0 use with student protection and network security to provide safe access to online resources and collaboration. The challenge for educational companies is to be able to provide school districts with fast, easy CIPA-compliant filtering and access to engaging, educational content – all at an affordable price point.
Architecting a High-Performance, Scalable, and Reliable Application Deployment Solution
As a result, Lightspeed Systems developed the Bottle Rocket appliance, the most advanced network filtering appliance designed to meet the needs of K-12 school districts. Lightspeed Systems selected UNICOM Engineering to manufacture its Bottle Rocket school network filtering appliance.
"We chose UNICOM Engineering because we were certain that they could deliver the results we needed to hit our market window," said Rob Chambers, VP of Product Development at Lightspeed Systems. "UNICOM Engineering's system integration expertise allowed us to aggressively accelerate our go-to-market schedule and the company's manufacturing resources and support services allowed us to deliver a more effective design- increasing the competitiveness of our product and the value we are able to deliver to our target customers."
Rocket Fast Time-To-Market
Utilizing UNICOM Engineering's application deployment, solution design, and system integration services, Lightspeed Systems was able to develop and launch the appliance in less than 60 days. The Bottle Rocket appliance is built on UNICOM Engineering's S-1200 R3 platform, incorporating Intel's advanced Xeon® (Sandy Bridge-based) microprocessor. Purpose-built for school district systems that require robust filtering capabilities, Bottle Rocket delivers an easy-to-use single point of management for educators and their IT staff.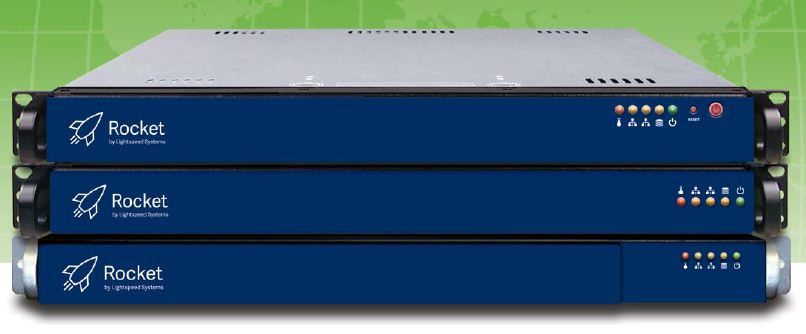 Based on Lightspeed Systems' award-winning Web Filter, Bottle Rocket is preloaded on an UNICOM Engineering appliance and comes plug-and-play ready for seamless installation and operation with existing school networks. The appliance uses the industry's most advanced processing and storage components to deliver CIPA-compliant network filtering and reduced data rate latencies with scalable expansion capability, featuring support for mobile devices and Lightspeed Systems' integrated collaborative learning management system named "My Big Campus."
With UNICOM Engineering's help, Lightspeed Systems was in the optimal position to capture increased market share by quickly addressing the problem, ultimately accelerating the sale of its products and giving the company a competitive edge.
"At Lightspeed Systems, education isn't an industry, it's a passion, so it was important that we work with a company that had considerable expertise in appliance development to address both the hardware and software issues that we knew would arise during this process," continued Chambers. "Lightspeed Systems remains committed to working with schools to accomplish amazing things, both on the network and in the classroom, and values partners such as UNICOM Engineering that enable us to achieve this mission."
Lightspeed Systems solutions are used in more than 3,000 school districts representing more than 10 million students across the world.
For more information about how UNICOM Engineering can assist your company with getting ideas off of the drawing board and into the marketplace, contact our team at (800) 977-1010.