Proof of Concept and Evaluation Pool Management
UNICOM Engineering will manage pools of customer-owned equipment for evaluation and demonstration needs. We believe that a positive "out-of-the-box" experience is key to the success of your brand. Our standard Evaluation Pool Management service includes loading the latest image, repairing minor cosmetic defects, replacing rails, and re-packaging all accessories and product documentation such that refurbished units look and behave as new products. Units returning from trade shows, sales meetings, customer evaluations, and other events are thoroughly tested and refurbished before they are returned to stock and shipped to the next customer or event.
This pool of equipment is stocked by simply adding new units and receiving units through the Return Materials Authorization (RMA) process. Customers can view inventory levels, individual unit status, and track shipping information via the customer portal. Evaluation units can be stocked in our USA or Galway, Ireland warehouses to expedite shipments outside of the United States. Typical turnaround time for the product in stock is two-business days. Our standard lead time to refurbish and ship a unit to a second location is 15 days from receipt at one of UNICOM Engineering's manufacturing facilities.
Evaluation Pool Returns
When units are returned to UNICOM Engineering facilities they are tested and refurbished to "like new" condition, then re-imaged with the latest software:

Customer portal
UNICOM Engineering's customer portal provides visibility and control of your business online through a secure web portal that reports status of inventory, tracks orders and shipments, manages forecasts and produces reports. Customers use the portal as their primary access to information and to view the status of products and orders in real time.
The portal shows the status of current shippable products, finished goods and Work in Progress (WIP) by location–enabling customers to plan and execute location-based distribution. Having this information at your disposal allows you to respond to sales demand in a more timely manner.
The portal offers multiple ways to view your business information. You can view the information by PO, ship date, or serial number. You can request and generate reports that include information on RMAs, open orders, WIP, shipments, and evaluation equipment.
Customer Portal
This screen is an example of just one of the functions available to review your account and view orders using purchase order numbers: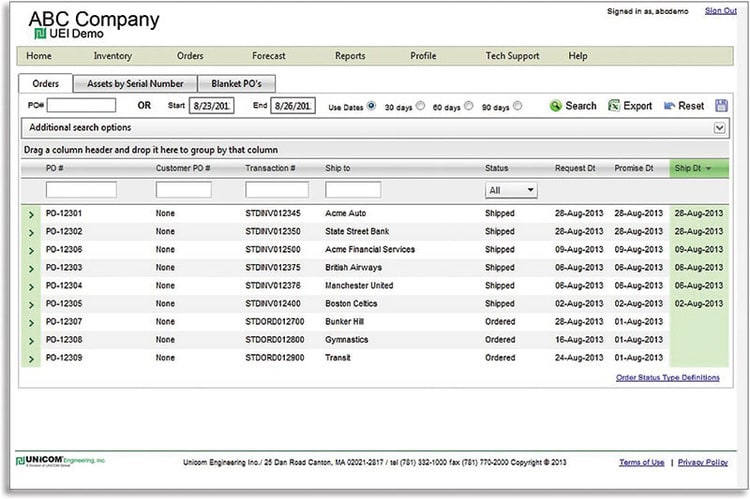 Extended shipping hours
This service enables customers to ship products from UNICOM Engineering's facilities outside normal business hours and as-needed when customers require late weekday or Saturday shipments. UNICOM Engineering includes this service as part of our standard quarter-end order processing on the last business day of March, June, September, and December at no additional charge to our customers.
Product return and failure query
Detailed Return Material Authorization (RMA) activity is accessible via UNICOM Engineering's customer portal. This report provides details for each RMA and includes reported failures, failure analyses data, and return shipping information. The report is searchable to broaden or narrow RMA search results.