Customer web portal
UNICOM Engineering's customer portal provides visibility and control of your business online through a secure web portal that reports the status of inventory, tracks orders and shipments, manages forecasts, and produces reports. The portal serves as a primary access point to information and to view the status of products and orders in real-time.
The portal shows the status of current shippable products, finished goods, and Work in Progress (WIP) by location–enabling customers to plan and execute location-based distribution. Having this information at your disposal allows you to respond to sales demand in a more timely manner.
The portal offers multiple ways to view your business information. You can see the information by PO, ship date, or serial number. You can request and generate reports that include information on RMAs, open orders, WIP, shipments, and evaluation equipment.
Forecasting
As a vital step in securing inventory and driving manufacturing plans to address demand, our Account Managers work with our Project Managers to develop build forecasts (by SKU if possible). Customer forecasts are accessible through the portal for review and evaluation.
Inventory management
The Partner Portal is key to managing and tracking manufacturing cycles and inventory levels at UNICOM Engineering's various plants and depots. The portal provides access to inventory sorted by customer-owned, finished goods and Work in Progress (WIP) by location—better enabling customers to commit to sell/ship on time.

Order and shipment tracking
Once an order is placed, customers can track and report the status of individual shipments. The portal provides valuable information, including the carrier, tracking number(s), and associated freight charges. Retrieve data by ship date or PO number, and results provide details down to the serial number of each part. This level of asset management is critical to customers who use serial numbers and MAC addresses to establish license keys for the software loaded on each device.
Order and shipment tracking enables customers to:
Pro-actively monitor and share shipping information with their customers
Plan the deployment of installation/service technicians
Obtain proof of purchase shipment for regulatory and audit purposes
Initiate invoice processes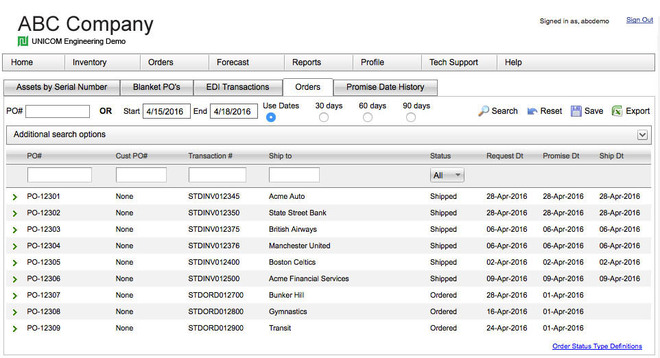 Operational reports
A series of reports are available to customers via the portal, including Open Order Summary, Shipment Summary, RMA Activity, and Detailed RMA Activity reports. In addition to viewing these via the portal, many of these reports are available to be received via an HTML email for users who choose to subscribe to such emails.
Technical support
You can enter new support tickets, view open/closed tickets, and receive support help using this section of the portal. Here is an example of the screen for entering a new support ticket.
Customers can quickly and easily:
Place a new support request
View open and closes requests
View RMA activity
Place and view customer SAT requests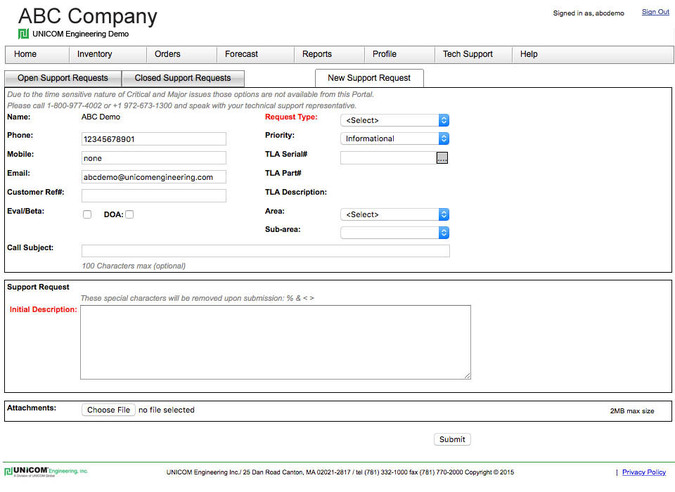 Refurbishment program
UNICOM Engineering offers a refurbishment program whereby used inventory can be returned to our facilities, refurbished and restocked for demonstration and evaluations, pilot programs, proof of concepts, or other business needs. The portal provides visibility into this inventory as well, allowing customers to view quantities, locations, and current conditions of that inventory.