The last week was a whirlwind of activity at Dell Technologies World 2019, an event that has become one of the top events for technology leaders. With the latest technologies, hands-on experiences, and inspiring keynote speeches, this action-packed conference had just about everything one could imagine.
This event focused on real transformation in the digital, workforce, and security industries. In the keynote, Michael Dell spoke to Dell Technologies' culture of technology optimism and how it unlocks human progress in the forms of things like eradicating hunger and finding cures for diseases. To that end, he suggested that it is our responsibility as technologists to ensure that the technology we develop reflects our humanity and values. All of which lead to the main idea that transformation is causing disruption in many ways and Dell Technologies aims to be at the forefront of this change.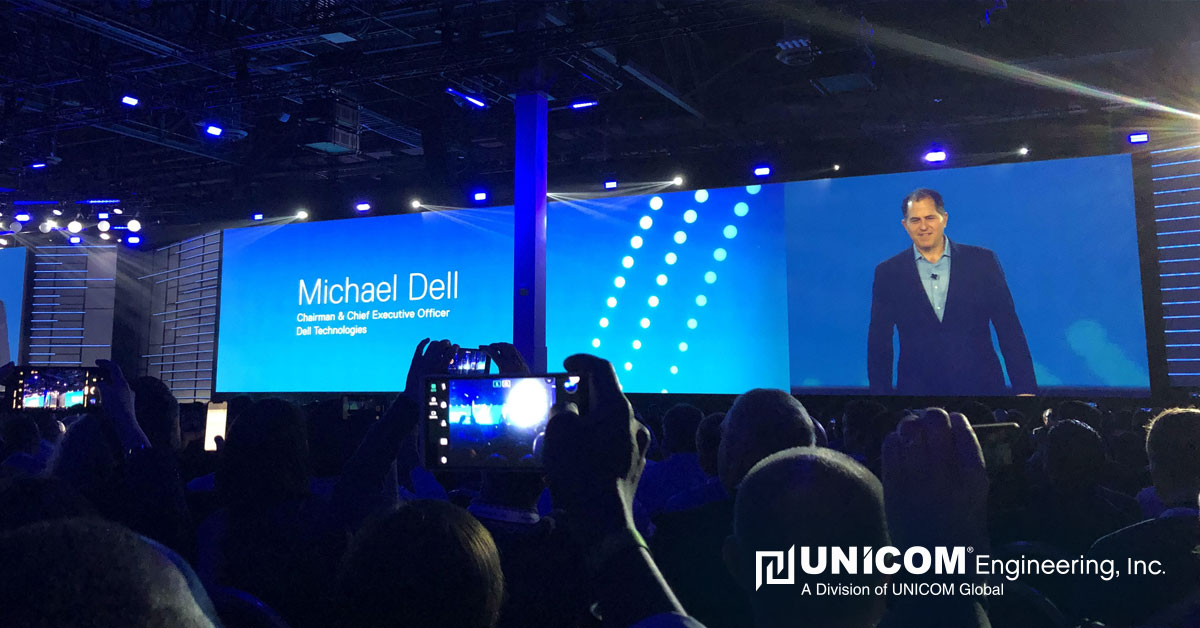 One big change for the company, as covered heavily by CRN magazine, is the transformation of the Dell Technologies Partner Program. The new program aims to simplify engagement for partners, like UNICOM Engineering, to procure seamless solutions across Dell Technologies. So, what does this mean to the organizations that we work with and support every day—opportunity to innovate and to break new ground. To reimagine how we collect and share information, how we navigate and secure our world. The foundation of these solutions and services that support digital transformation initiatives is Dell Technologies.
The partner community also had the opportunity to participate in the Global Partner Summit to learn how to strengthen our relationship with Dell EMC and help our customers build bold next-gen OEM solutions. UNICOM Engineering had the great pleasure of accepting the Dell Technologies OEM Partner of the Year Americas award. We then had the opportunity to learn about AI, 5G, the internet of systems, and edge computing at the OEM and IoT Solutions Summit. Guest speaker Daniel Burrows, the best-selling author of The Anticipatory Organization, spoke to hard and soft trends and how to anticipate disruption and change to find opportunities for growth.
Artificial Intelligence (AI), was top of mind at this year's conference. Rana el-Kaliouby, co-founder and CEO of Affectiva, spoke about how diversity and human emotional intellect are key to making algorithms trustworthy. To solve issues within AI surrounding discrimination within technology that utilizes AI (i.e., facial recognition), Kaliouby suggests widening data sets to be more inclusive from ethnic and gender perspectives. Representing the diversity of the population means sampling global people and working with those of different backgrounds that will focus on how to create and deploy systems internationally. This also requires trust between humans and machines to full be effective. A touch of humanity is required to help AI algorithms identify human expression and Kaliouby believes it starts with a reciprocal relationship between humans and technology.
With 5G upon us, expectations of what it will deliver are abound. Panelists sought to answer how 5G will enable use cases. The biggest example appears likely to be the impact of how businesses function and design products and solutions since 5G will cater to both business and consumer alike. One large prediction is the wireless connectivity of just about anything, enabling IoT at a larger scale. Overall, the opportunity presented to the world with the 5G experience will alter innovation in a powerful way.
Why Build on Dell with a Systems Integration Partner?
As a Dell Technologies Titanium OEM partner, UNICOM Engineering can help you build bolder faster. We are flexible and nimble in our pursuit to bring your solutions to market. This trait goes hand in hand with our deep technical expertise that can transform your ideas into reality from rapid prototypes to customized solutions. Our flexibility extends to the delivery of your product with multiple go-to-market programs. Add to this the ability to build and support solutions on a global scale through a single company and you begin to understand why leading technology providers trust UNICOM Engineering as their application deployment partner.
Tackle Next-Gen Solutions & Leverage the Latest Tech
Digital transformation isn't a buzzword anymore and won't wait for anyone or anything. To remain competitive today, businesses need constantly innovate. It's time to tackle your next-gen solutions and leverage the latest technology to maximize performance and manage cost. To learn more and see how UNICOM Engineering can streamline your speed to market, visit our Dell EMC Partner page or contact us by telephone (800) 977-1010 or by email at sales@unicomengineering.com.