Overview
Electronic products require the CE certification mark before they can be marketed or sold in the European Union (EU) and European Economic Area (EEA). This mark shows that the product conforms with all the applicable EU Directives.
The EU's current requirements for electronic devices originated with the publication of Directive 2009/125/EC on October 21, 2009. This directive was implemented into law with the passage of Regulation 617/2013 on June 26, 2013, and amended by Regulation 2019/424 on March 15, 2019. The requirements of Annex II are now applicable to the products listed under Lot 9, specifically applying to servers and data storage devices. All products in the EU must comply with these eco-design requirements by March 1, 2020, when they will become a CE marking requirement.
Definitions
Lot 9 specifies distinct requirements for data storage products and servers, but not server appliances. Understanding the differences between these three categories is, therefore, critical for ensuring a product complies with Lot 9 requirements.
Servers and Server Appliances
A server is essentially a computing device designed to run an operating system (OS) and applications installed by users under Lot 9. In contrast, a server appliance doesn't run software installed by end-users. The manufacturer and/or system integrator typically installs the OS and applications on an appliance, which the user manages through a command-line interface or web browser. A server often performs many functions that aren't closely related, whereas server appliances are typically dedicated to a single function or set of tightly-coupled functions.
Data Storage Products
Lot 9 defines a data storage product as a fully-functional storage system, whether it supplies its services directly to the user or through a network. Components and subsystems are considered part of a data storage product, provided they're an integral part of its architecture. For example, a component that provides internal communications between a storage product's controllers and disks is part of a data storage device. Software and embedded network elements are also parts of these devices.
On the other hand, a component isn't part of a data storage device if it's primarily associated with the data center's storage environment rather than the device itself. For example, components required for the operation of an external storage area network aren't part of a data storage product.
Affected Products
The Environmental Protection Agency (EPA) specifies standards for the energy efficiency of electronic devices through its Energy Star program, which has historically been sufficiently stringent to meet the energy-efficiency requirements of other regulatory bodies. However, the latest Lot 9 requirements may be higher than the current Energy Star requirements for some devices. Furthermore, Lot 9 also requires manufacturers to provide end-users with certain information on their products for a specific period of time after the sale of the product.
80 Plus Requirements
The 80 PLUS program is closely aligned with the new energy efficiency requirements and are a good indicator of whether a power supply will meet the Lot 9 requirements, although there are some differences. This program includes the following levels, which have progressively higher energy-efficiency requirements:
80 Plus
80 Plus Bronze
80 Plus Silver
80 Plus Gold
80 Plus Platinum
80 Plus Titanium
The footnotes for the table below describe the disparities between the Energy Star, Lot 9 requirements, and 80 PLUS ratings.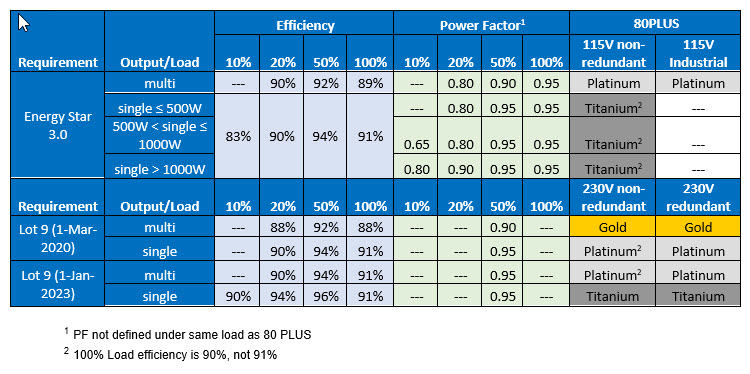 Summary
Data storage providers will have plenty to do if they want to continue importing their products to the EU in 2020. The many combinations of components that are possible for data storage devices mean that providers need a partner that thoroughly understands the EU's regulatory requirements. The UNICOM Engineering Regulatory Compliance team can ensure products meet these standards, reducing considerable risk for our clients. Learn more about how the UNICOM Engineering team can assist you in navigating the global regulatory process by visiting our Regulatory Compliance page or emailing us at info@unicomengineering.com.