In addition to their relative reliability and simplicity due to the fact that there are no moving parts to break down or fail, SSDs also offer the advantage of a reduction in power usage of up to 200 percent when compared to their HDD counterparts. Combined with the subsequent reduction in heat load from the lower power requirements, the operating cost advantages for a data center can result in a fast payback when converting to SSDs based on the most recent pricing. Plus, because of their increased speed for handling data – 200 to 500 MB/s compared to 50 to 120 MB/s for HDDs – the total number of SSDs required for processing data will be less than the current number of hard disk drives presently installed, improving energy consumption even further.
SSDs retain or improve on all of the features typically expected of hard disk drives. They have internal processors to enhance data handling within the drive, offer full disk encryption, and are immune to the effects of magnetism from stray electrical currents. On top of that, they take advantage of non-volatile memory, allowing them to survive power failures without a subsequent loss of data.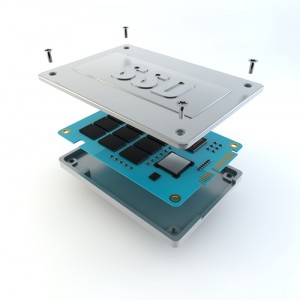 The only real disadvantages of SSDs have been their relative high price and limited storage capacity, although both of these are also quickly coming in line. Prices of solid state drives are down by as much as 30 percent compared to earlier this year, and the trend is expected to continue as more competitors enter the field. Smaller SSDs are now very competitive with HDDs of the same size. Although solid state drive capacities are currently limited to around 600 GB, well below the 4 TB size of HDDs, it is substantially above the 240 GB max that was available only a year ago, and this trend is also expected to improve.
As prices continue to fall and capacities continue to increase rapidly, it will become much easier and justifiable for OEMs, data center managers, and IT professionals to make the decision to move away from HDDs and toward faster, quieter, more reliable, and lower-power-consuming SSDs.
Looking for a partner to help design SSD-based platforms for your next appliance solution? With a comprehensive approach to solution design and application deployment, NEI uses standard technologies to build platforms that accelerate time to market and reduce cost of ownership. NEI's comprehensive services allow you to focus on software innovation and application development while we focus on providing the optimum platform design to meet your needs. Visit or contact NEI today at (877) 792-9099 to learn more.