NEI was busy throughout the week catching up with customers and partners while providing attendees insight on how to streamline their application deployment. Many of our conversations focused on building, shipping and supporting solutions deployed globally, and how NEI works as an extension of their business to overcome these challenges and make them competitive in a global market.
While many of the sessions focused on the latest threats and ways to counteract these attacks, we found the following interesting trends in the market as they relate to how our customers can deliver more robust and flexible solutions.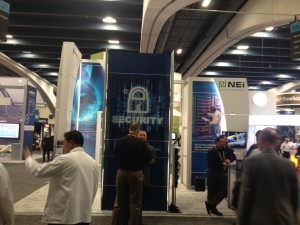 OpenFlow and Software Defined Networking (SDN) are Gaining Popularity with Security and Cloud Service Providers
Dynamic network provisioning is vital to securing today's networks from threats. It enables flexibility and responsiveness by allowing only authorized use and terminating access to devices when suspicious activity is detected. SDN through OpenFlow is the mechanism to greater control within the network. In simple terms, SDN allows for fast provisioning of network connections by separating out a software defined control plane from the network data plane. OpenFlow is the protocol used to separate the intelligence required to route a packet from the act of moving a packet through the network.
Both OpenFlow and SDN are becoming the "go-to" tool for providing true network security without becoming the network bottleneck. For the first time, OpenFlow allows third party application developers to directly control network hardware provisioning by separating the network control plane into a standard set of APIs. In addition, they provide a central point of network control for multiple sites eliminating the need for specific access control solutions at each site location.
Smart NICs are Increasingly Required for High Performance Security Appliances
Two general concepts in high performance security appliances is that core networks continue to increase in capacity and more functions must be moved to NICs to keep up with faster network interfaces. That being said, common functions being moved from general purpose CPUs to NICs include IEEE1588 time stamping, encryption offload, TCP/IP offload, flow processing and packet processing. In addition, high performance security appliances often require 10GE – 100 GE of real time throughput, further driving the need for more intelligent NICs.
Deploying a security appliance? Contact NEI at (800) 977-1010 or visit us at www.NEI.com to learn more about delivering software as an appliance and a broad range of services that ease deployment challenges and get your solutions to market better, faster and more cost effectively.