PoliWall plays a vital role in the information systems security of critical networks. The appliance sits between firewalls and edge routers to stop threats at the network edge by blocking malicious traffic. Finding a reliable partner capable of developing the hardware platform suitable for international export was crucial to success.
TechGuard Security had worked with NEI, the company now known as UNICOM Engineering, and knew it could deliver. In addition to marketing the PoliWall internationally, TechGuard Security wanted to develop the next generation of the PoliWall appliance for both domestic and international markets.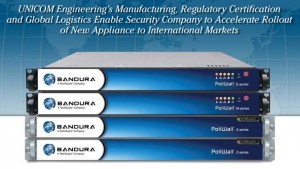 They wanted to build a faster appliance with higher throughput, greater availability and a smaller footprint size. TechGuard Security knew that UNICOM Engineering's proven experience with appliance manufacturing and expertise in international regulation certification could help them deliver a reliable solution to the global market quickly.
UNICOM Engineering takes a comprehensive approach to solution design and application deployment, utilizing standard technologies to build appliances that meet specific application requirements, accelerate time to market, and reduce total cost of ownership. Throughout the design process, the company considers all aspects of the solution lifecycle, including component life, energy efficiency and regulatory requirements.
"UNICOM Engineering had the platforms we needed to be able to support our new high-throughput product up to 20G per second," said David Maestas, chief technology officer at Bandura, the company TechGuard Security created to market its IT security service. "The fact that the platforms were already pre-certified for export and for sale in the U.S. was a huge bonus for us."
UNICOM Engineering has the capability to meet the demanding criteria of leading IT security companies like TechGuard Security in producing appliances for both domestic and international markets. To find out what UNICOM can do for you, visit our website at www.unicomengineering.com.
Read the full success story here.
Ready to deploy on an appliance? Looking to expand globally?
If you are looking for a design, integration, and services partner to get your application to market, across the globe, contact UNICOM Engineering at 800-977-1010 or sales@unicomengineering.com.
UNICOM Engineering will also be at ASIS 2014 from September 29th – October 3rd.