How much could your company save if all of its resources were focused on developing software instead of managing hardware deployments, upgrades, repairs or support services? This is the question that has led security software companies to choose UNICOM Engineering. As experts in solution design, integration, logistics and support; UNICOM Engineering has become the partner of choice for market leaders worldwide.
Want to learn more? The UNICOM Engineering team will be attending RSA 2015, April 20-24 in San Francisco. Here are the top three things you can do to get started: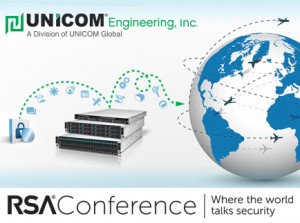 1. Visit Us at Booth #3341
Executives and subject-matter experts will be available to meet with you one-on-one at the conference. Complete the meeting request to schedule an appointment.
Join us at noon, Wednesday, April 22 for an Ice Cream Social
Beginning at 12:00pm, we will be providing Haagen-Dazs ice cream sponsored by Intel. Experts will be available to discuss the latest security features available for server-based security appliances.
2. Attend a Technology Brief on "Trusted Servers for a Mistrusted World"
Speaker: Austin Hipes, Chief Architect and VP of Engineering
Date: Tuesday, April 21, 2015
Time: 1:50pm – 2:10pm
Location: South | Expo Briefing Center | BC-T5S
Overview: Growing concerns over the government and corporate hacking by malicious groups or foreign nations requires a new approach to server design in order to secure sensitive data. Starting from the foundation of sourcing trusted microprocessors and continuing through the secure integration of servers, we'll explore the new concepts that make up the Trusted Server initiative.
3. Download Our FREE White Papers
Streamlining the transition to Intel's Haswell architecture
A guide to successfully migrating to next-generation Intel® Xeon® E5 processor-based servers
How to deliver software as a purpose-built appliance
Gaining the business benefits, avoiding the pitfalls
To schedule a meeting with a member of the UNICOM Engineering team at RSA, visit our website.