As a system integrator, UNICOM Engineering does not manufacture or contract the manufacture of components. Instead, we rely on declarations of compliance from a complex global value chain of suppliers and other stakeholders who provide the parts used in the products we build.
UNICOM Engineering monitors the components and sub-assemblies used in our products to ensure they meet or exceed conformance requirements. We hold our suppliers to high standards as defined by local, regional, and international laws and regulations, international standards, and best practices to protect ourselves and the Customers we serve.
Use this page as a "checklist" to review items required by UNICOM Engineering and Regulatory Compliance. Track your own onboarding process as a Supplier with UNICOM Engineering. Follow the links for additional explanations and helpful tools.
Supply Chain Responsibility
UNICOM Engineering, Inc. has fully adopted the Electronic Industry Citizenship Coalition (EICC) Code of Conduct. We expect our supply chain partners to abide by the Code and ensure that their suppliers also comply.
Attestation: Supplier has reviewed and shall comply with:
UNICOM Engineering Environmental Specification
All Suppliers to UNICOM Engineering of components, materials, modules, products or subassemblies, and packaging materials shall review The UNICOM Engineering Environmental Specification when supplying any new product or revised product to UNICOM Engineering. When UNICOM Engineering re-orders, a supplier review of this Specification is required if materials or the processes for creating the product have changed.
Attestation: Supplier has reviewed the Specification and attests that products supplied to UNICOM Engineering meet the requirements of:
UNICOM Engineering Environmental Specification (502-1063-00)
Compliance and Product Applicability
UNICOM Engineering is committed to minimizing the social and environmental impact of our operations and the products we build. We take a proactive approach to meet environmental regulations locally, regionally, and globally. Our Suppliers are expected to certify their deliverables meet or exceed applicable environmental standards.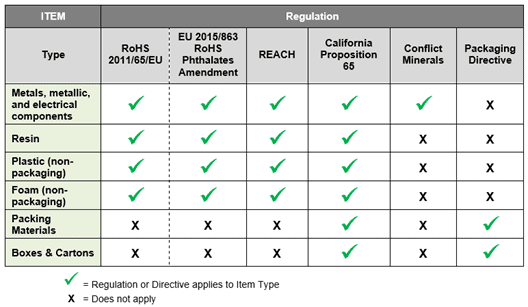 Jurisdiction
Regulations followed by UNICOM Engineering can fall within the jurisdiction of various States within the United States, Member States of the European Union (EU), and/or jurisdictions outside the EU Member States.
Supplier agrees to provide statements or certificates of compliance to meet the needs of UNICOM Engineering irrespective of where the Supplier is located.
Documentation and Verification
Supplier will provide documentation to UNICOM Engineering in the written or electronic format requested for the Regulations to demonstrate product compliance, as outlined in the UNICOM Engineering Environmental Specification (502-1063-00).
All deliverables supplied to UNICOM Engineering will comply with the latest version of the Regulations.
Data analysis, test reports, supplier data, or other technical documentation in support of compliance certification(s) will be maintained by the Supplier or Certifier and be auditable upon request.
Supplier Declarations
Any declaration form or statement originating with the Supplier shall be considered a legally binding document. Declarations submitted by the Supplier should be available in the reader's language.
Use helpful links below for additional information or to access reporting templates.
Conflict Minerals
Visit our Conflict Minerals section for additional information and reporting formats.
REACH
Visit our REACH section for additional information and reporting formats.
RoHS
RoHS Reporting Template. Use this UNICOM Engineering data collection form (DCF) to declare parts individually or universally.
Visit our RoHS section for additional information and reporting formats.
China RoHS
Supplier's own China RoHS Declaration of Conformance. Must meet information criteria.
Visit our China RoHS section for additional information.
Packaging and Packaging Waste
Batteries
Supplier agrees to provide Battery Transport Safety and SDS (Safety Data Sheet) documentation to UNICOM Engineering upon request.
Visit our Batteries section for additional information
Questions?
Contact the UNICOM Engineering Environmental Compliance Specialist at 972-673-1373.